The Q8Oils brand
Q8Oils develops products, services and solutions that increase the profitability and sustainability of our customers' businesses.
We develop, blend and deliver a comprehensive range of technology enhanced lubricants, with a portfolio of more than 1,000 products to suit every application, from the smallest engine to the largest machine.
Based upon the extensive R&D activities in Q8Oils' European laboratories, we manufacture a comprehensive range of oils in our own Blending Plants. The usage of high quality base oils and the latest technological innovations guarantee products of the highest quality, approved by all major OEMs.
Q8Oils' mission is to develop products that exceed the highest performance requirements, whilst fulfilling our customers' every need and meeting our responsibility to protect the environment.
Easy to do business with Q8Oils
Customers from more than 90 countries worldwide choose us because it is easy to do business with Q8Oils. We offer a single supply solution for a variety of applications in the Automotive, Energy, Metalworking and General Industry market segments.
Thanks to our strong customer centric approach based on product and service innovation, technical expertise and support, Q8Oils has established itself as the number one lubricant supplier for international market leading companies.
Part of a strong group
Q8Oils is part of Kuwait Petroleum Corporation (KPC), ranked as the world's 7th largest oil company. As part of the global energy industry, KPC supplies the world with its vital oil and gas needs via diverse business activities which encompass all aspects of the hydrocarbon industry. From onshore and offshore exploration, to production and refining, petrochemicals, marine transportation and retailing. Click here to read more about Q8Oils as part of a larger whole.
State-of-the-art Blending Plants
Q8Oils' lubricant Blending Plants in Belgium and Italy are designed and built to meet the highest quality and efficiency demands. They are fully compliant with local safety, security, health and environmental regulations.
Blending Plant Antwerp, Belgium
Q8Oils' Blending Plant in Antwerp is located by the river Scheldt, facilitating the delivery of raw materials by ship or barge. The finished lubricants are sold in bulk or in packages ranging from 1 to 1,000 liters. The ISO certification and integrated control by Q8Oils' Quality Department ensure safe products of the highest quality. An investment of more than 100 million USD over past years makes this blending plant the most modern in Europe. With a potential capacity of 250 million liters it is also Europe's largest blending plant.
Click here for more information on our Blending Plant in Antwerp.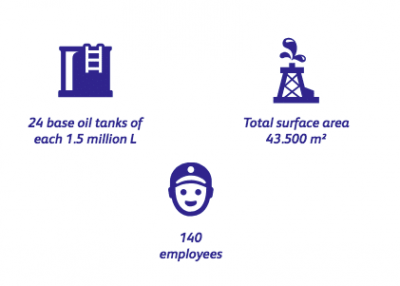 Blending Plant Castellar Guidobono, Italy
Our Italian plant is located close to the town of Castellar Guidobono, south of Milan. It has highly automated small pack filling facilities and supplies customers worldwide with Q8Oils, Germ-Allcard, Roloil and Q8Oils marine-branded products. The plant's flexibility enables Q8Oils to produce an extensive range of products for all specialist and customer needs. A laboratory manages quality control and product development.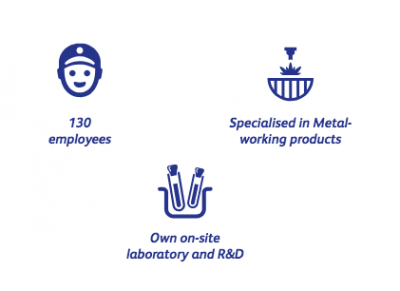 Own Research and Development
Quality and innovation have always been at the heart of Q8Oils' business. Therefore we created a Research & Development program for the optimization of existing products and the development of new innovative lubricants, meeting specific customer challenges. The R&D development team also enhances production, product application and quality control by providing important information on safety, security, health and environmental issues. Q8Oils invests strongly in technical research and product development. Many of the additives we use in our lubricants are the result of own formulations. This enables us to offer custom-made solutions for each particular challenge with a product quality and performance that is far above average.

Dedication to quality and sustainability
At Q8Oils we want to provide quality and continuous improvement in everything we do. Therefore we are compliant and certified with the following international standards and quality systems:
Environmental standards
It is the mission of Q8Oils to meet our responsibilities in protecting the environment. Therefore we have a strong company policy on HSSE (Health, Safety, Security and Environment) and are compliant with the following standards:
SSHE
Q8Oils protects the safety, security and health of our employees, contractors and the public by conducting our business in line with our Safety, Security, Health & Environment (SSHE) Management System.
All our employees and contractors are responsible for implementing this system and seeking continuous improvements.
In addition to complying fully with the local regulations in each country where we operate, the SSHE programme involves the following:
SSHE consultants, employees, contractors and suppliers work together to create workplaces with the highest standards of health and safety.
Staff are fully trained in safe working practices and in identifying risks.
Measures are actively taken to identify and control potential hazards relating to operations and products.
Each manufacturing unit submits an annual SSHE plan that has to be approved by senior management.
Best practice and experience is shared to improve SSHE standards.
Performance of the SSHE programme is continuously reviewed and objectives are set for constant improvement.