Jenbacher S Oil 40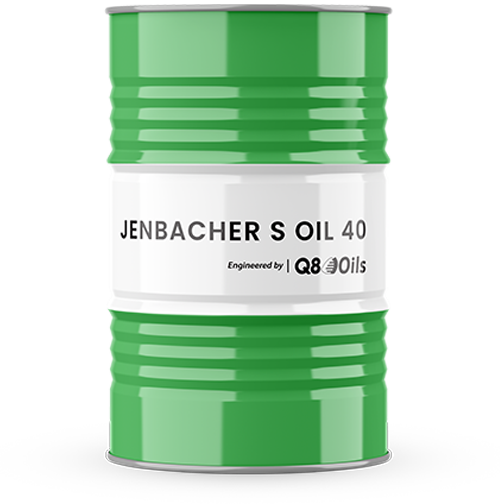 The high performance Jenbacher gas engine oil for non-natural gas
Jenbacher S Oil 40 is a high-performing synthetic (hydrocracked) oil for stationary gas engines. This medium-ash product is specifically developed for engines running under severe conditions in non-natural gas applications (biogas, sewage, landfill, woodgas, etc.).
Jenbacher S Oil 40 provides an increased drain interval (by on average 80% longer). The special used oil limits for this product provide a reliable operation with an extended oil drain, reducing life cycle costs significantly.
Why choose Jenbacher S Oil 40?
Jenbacher S Oil 40
The result of more than 20 years of co-engineering

Is optimized to perform in extreme conditions

Extends drain intervals by on average 80% in high H2S non-natural gas operations and increases filter life up to 100%
Oil life in INNIO Jenbacher J320 engine running on Non Natural Gas*
Based on > 9.000 condition monitoring samples.

*The displayed results are based on the experience of a limited number of engines during field tests. Actual results can vary depending on the type of engine, its maintenance,
operating conditions and quality of prior lubricant used. Please consult the technical instructions from INNIO Jenbacher for specific guidelines.
Q8Oils and INNIO Jenbacher: delivering high-quality energy solutions since 1998.

Q8Oils' gas engine oils services
Our customers testify
Having used Q8Oils' products in a fleet of landfill generating units for a number of years now, I can honestly say that the oil has always delivered on minimising engine wear whilst maximising oil life. Ordering and delivery are always easy to arrange and prompt to site. Customer service is on hand whenever called upon to discuss available products and recommendations for application. Highly recommended.
Tony Owen, YLEM Energy, UK
Things did not happen by chance, but followed a long process of researching the supplier and its products. Experimental tests in the operating situation have made it possible to check the performance of Q8 lubricants, whether it concerns the longevity of the oil charge, the reduction in the specific consumption, or the maintenance of the wear parts or engine cleanliness. We appreciate the daily investment of Q8Oils at our site, their qualitative advice, proposals and optimisations, and their ability to invest continuously in the search for innovative products meeting the latest requirements of the Jenbacher gas engines that we supply. The proposed range is very relevant, it now offers third generation synthetic products with unprecedented feedbacks.
Didier Lartigue, Managing Director Clarke Energy, France
We have been using Q8Oils' products for the past two years in our Jenbacher gas engines. Q8Oils' gas engine oils perform exceptionally well, and the technical support we received is extraordinarily uncommon. We recently did a study on oil consumption, and compared it to the product we were using prior to Q8Oils. Their technical team used our empirical data to do the study, and we found that the Q8Oils product was consuming 40% to 45% less oil in our engines.
I would recommend the product to anyone that is looking for performance driven, and reliable product, with exceptional technical support from passionate experts!
IMG Midstream, USA
We converted our Jenbacher J616 engines to Q8Oils for our landfill operations some years ago. Q8Oils gas engine oil's performance has by far exceeded our expectation. We have witnessed an increase in oil drain intervals from 2,000 to well over 5,000 hours at most sites with no increase in oil consumption. We were so pleased with the performance of the product that we have also started converting our engines to Q8Oils as well. Their technical support and customer service is also second to none. If you want a reliable product with great service, I strongly recommend Q8Oils.
Ryan Hennessy, Maintenance Manager at Cubed Energy, USA