Q8Oils is one of the first to have developed a quality gearbox oil equal to Poly-Alpha-Olefin, without the use of PAO. Q8 Galilei is an innovative synthetic gear oil with a perfect balance of anti-wear and extreme pressure additives.
This makes Q8 Galilei the alternative to any high-quality industrial gearbox oil that is based completely on PAO. After all, Q8 Galilei can be used in the exact same situations (for example, large temperature fluctuations, longer periods of oil drainage, etc.) and offers the high level protection requirements of gear wheels or OEMs, such as those demanded by Flender, Hansen Getriebe, Moventas and Winergy.
Benefits of Q8 Galilei
Q8 Galilei is not a standard oil – for the following reasons:
Q8 Galilei provides extremely high protection against wear.
It has been tested and proven that Q8 Galilei ensures a lower oil bath temperature when compared to an oil with PAO-based minerals under the same gearbox load.
A lower oil operating temperature provides better protection against wear due to a thicker oil film being built.
Q8 Galilei delivers positive oxidation stability, even in the most difficult circumstances. This is due to the high-quality synthetic fluids that are used.
The excellent viscosity index (which is equivalent or higher than PAO) means we have a wider temperature range to work with.
Q8 Galilei is mixable and compatible with gearbox oil based on minerals and PAO.
The oil drain intervals of Q8 Galilei are extended from 2x to 4x.
Q8 Galilei has extremely high oxidation stability and excellent protection against foam, rust and corrosion.
Q8 Galilei has excellent gear and bearing protection, and remains stable under shear forces.
Finally: Q8 Galilei has a very interesting price advantage when compared to any other PAO-based gearbox oil.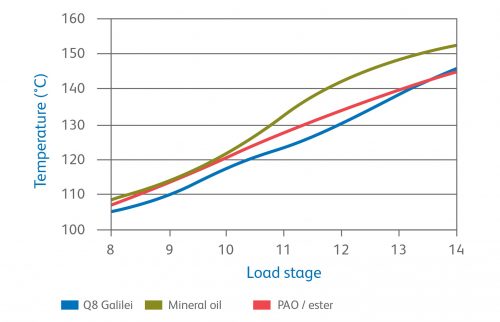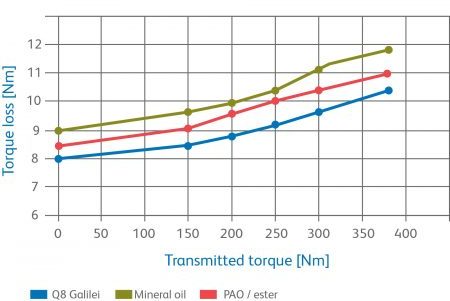 Applications
Q8 Galilei is extremely suitable for heavily loaded gearboxes and applications where a longer lifespan or longer oil change interval is required. By this, we mean machinery used in, for example:
the paper and steel industry;
cement and mining;
chemical processing and plastic manufacture;
ventilation and circulation pump installations;
wind turbines;
etc.