Modern hydraulic systems operate with relatively small hydraulic oil volumes, generating higher stress loads on lubricants. The Q8 Hogarth range offers hydraulic oils with improved viscometric properties to reduce the temperature influence on the oil viscosity. They have been developed to ensure a trouble-free operation and an extended oil replenishment interval due to superior oxidation stability.
Hydraulic installations run under widely changing temperatures and high mechanical loads. Not only the ambient temperatures change over seasons, also the operational temperatures can vary from extreme low to extreme high. The challenge for hydraulic oils under these conditions is to maintain their viscosity for a long period. If the viscosity of the oil drops too low, you risk costly pump damage.
Benefits of the Q8 Hogarth hydraulic oils
1. Enhanced viscosity stability due to superior VI improver
Thanks to their stable high VI viscosity index, the Q8 Hogarth hydraulic oils can stand higher mechanical stress and have a longer endurance. The result: a long lasting stable viscosity. The following graph shows the enhanced viscosity stability of Q8 Hogarth 46.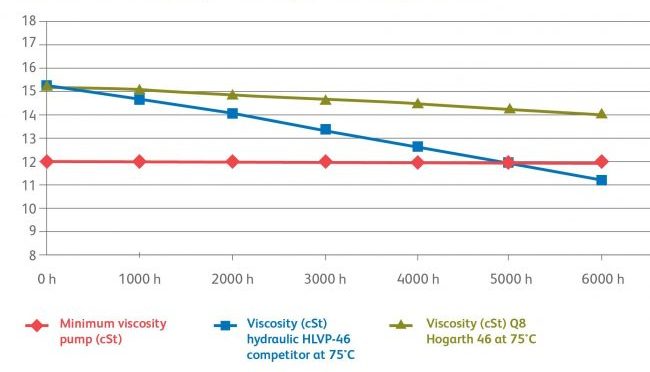 2. Improved oxidation stability
The use of the high quality synthetic base oil guarantees an improved oxidation stability, extending the oil drain period without any oxidation products or deposits. Oil change periods between 4000 and 6000 hours are possible. The graph below compares the prolonged oxidation stability of the Q8 Hogarth 46 with other products.

3. Reduced lacquering
Modern Group II and III oils are sensitive for the build-up of lacquering. The synthetic base of Q8 Hogarth has been improved by the use of vital mineral components. This ensures that the oil remains free of deposits and that lacquering is avoided. The pictures below show the reduced lacquering ability of the Q8 Hogarth.
4. High wear-resistance
The formulation of Q8 Hogarth uses the latest zinc additives with very effective anti-wear protection. Consequently, the wear-resistance is at a very high level (12 Pass in the FZG*-Test). In addition the electrical conductivity is higher as with zinc-free hydraulic oils.
*FZG stands for "Forschungsstelle fur Zahnrader und Getriebebau", the Technical Institute for the Study of Gears and Drive Mechanisms
5. Energy savings
Because the Q8 Hogarth hydraulic oils can operate in the optimum viscosity range, both in low and high operating temperatures, they generate energy savings. A stable viscosity in low temperature environments reduces friction, leading to mechanical profits. A stable viscosity in high temperature environments reduces internal and external leakages, leading to volumetric profit.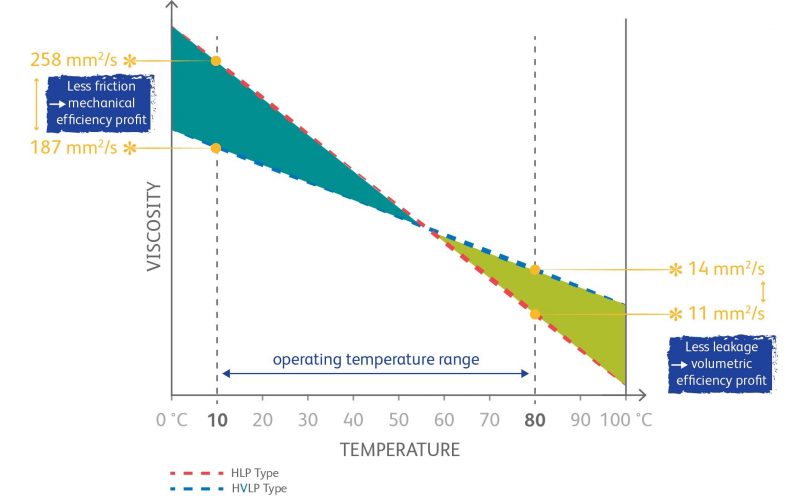 Q8 Hogarth increases productivity, components lifetime and energy savings
The Q8 Hogarth range offers leading long life oils for use in hydraulic systems exposed to wide temperature fluctuations.
The use of a very stable VI Improver offers a very stable viscosity behaviour, leading to extended components lifetime, increased productivity and energy savings. With their superior oxidation stability, The Q8 Hogarth formulation is developed for a longer service life. The very effective anti-wear additives extends the lifetime of the hydraulic installation.