Petroleum Economist, an independent publisher who analyses the energy market since 1934, hosted its annual award ceremony on 21 November in London. Q8Oils was awarded the "Project of the Year" award!
The Petroleum Economist Awards aim to celebrate the people, companies and projects that epitomize the best of the energy industry. The scheme particularly seeks to identify and recognize examples of innovation and originality, sound business practice and commitment to environmental protection and employee welfare. Past winners have come from various sectors who work closely with the oil industry and include other oil majors.
The "Project of the Year" award recognizes a project that has particular merits and sets new standards in its sector. The nominated projects provide evidence of sustainability and careful consideration of environmental issues, a best-practice approach of health and safety whilst meeting budget and time constraints. Q8Oils' Blending Plant Antwerp, Belgium (BPA) renovation project was announced as winner in this category.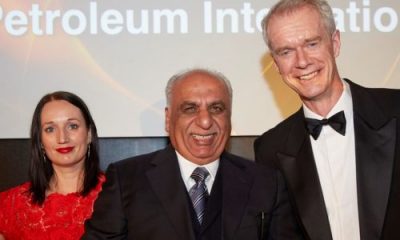 Q8Oils was awarded the "Project of the Year" award
BPA was voted as Europe's most state of the art lubricant facility, and it was recognized that the renovation project it has gone through at a cost of $100 million, transformed it into one of the largest and most technically advanced lubricant production facilities in the region. Mr. Adnan Al-Qallaf, Stakeholder Management Group Manager of KPI, received the award on the behalf of the Company.
Read this article if you want to know more on BPA, its rich history and its bright future, or contact us for further information.