In the fast-paced world of industrial innovation, lubricants play a crucial role in ensuring machinery operates smoothly and efficiently. As a key player in the lubricant industry, Q8Oils is all set to participate in the upcoming Lubricant Fair in Essen, Germany, scheduled from September 26th to 28th, 2023.
This highly anticipated event is expected to bring together experts, businesses, and enthusiasts to explore the latest trends, technologies, and products in the lubricant sector.
The Lubricant Fair in Essen, Germany, is a much-anticipated event that draws lubricant manufacturers, distributors, researchers, and industry professionals from around the world. It serves as a platform for networking, knowledge-sharing, and staying updated with the latest advancements in the field. The fair features exhibitions, seminars, and workshops, providing attendees with a comprehensive view of the industry's current landscape. As Q8Oils is known to enhance the performance, longevity, and reliability of industrial machinery, we are thrilled to share our knowledge and offer cutting-edge solutions.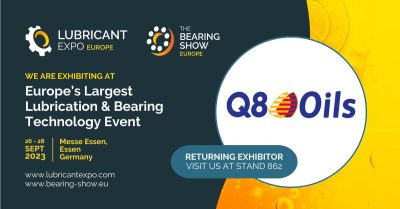 Visit us in Hall 7 Stand 862.
At Q8Oils stand representatives and experts will be on hand to engage in discussions, answer queries, and provide insights into the various applications and benefits of our products. The attendees can look forward to learning about our latest advancements in lubricant formulations. From high-performance synthetic oils to eco-friendly options.
One of Q8Oils' strengths lies in our ability to tailor solutions to different industries. Visitors will have the opportunity to explore sector-specific lubricants designed to optimize the performance of equipment and machinery in industries such as manufacturing, automotive, marine, and agriculture.
The Lubricant Fair is not only about products and presentations; it's also a melting pot of ideas, collaborations, and partnerships. The event offers a chance to connect with industry peers, potential clients, distributors, and researchers. Such interactions can lead to fruitful collaborations, joint ventures, and opportunities for further innovation.
The Lubricant Fair in Essen, Germany, is undoubtedly an event to watch out for in 2023. With Q8Oils' participation, attendees can expect a showcase of cutting-edge lubrication solutions that are designed to transform industries and drive innovation forward. As we continue to be a trailblazer in the lubricant sector, its presence at the fair solidifies its commitment to pushing boundaries and shaping the future of industrial lubrication. If you're attending the fair, visiting Q8Oils' stand is a must to witness firsthand the exciting developments shaping the world of lubricants.