Q8Oils has succeeded to eliminate the undesired side effects of gas engine oils with a high sulphated ash content. The Q8 Mahler G8 gas engine oil combines a 0,8 % sulphated ash content with a low deposit tendency, keeping engine parts clean. Q8Oils recently received the first ever OEM-approval for this type of 'high ash' gas engine oils to be used in critical, steel piston and high BMEP engines being operated on natural gas.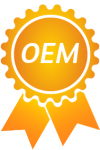 Gas engine owners are always looking to enhance the performance of their installation. The selection of the right engine oil is one of the ways to ensure problem-free operations. High pressure gas engines running on highly polluted gases require lubricants with a higher sulphated ash content. The side effect of these oil types is the increased deposit tendency that limits drain interval time and hinders engine cleanliness.
Q8 Mahler G8 raises the bar for gas engine oils.
For the traditional gas engine oils there was always one truth: the higher the ash content, the higher the ash deposit tendency. For the development of the Q8 Mahler G8, Q8Oils used a completely new development strategy, setting us apart from our competitors. The unique formulation of this gas engine oil enables a 0,8% sulphated ash content in combination with a low ash deposit tendency.
The benefits for gas engine owners are very promising:
Fewer piston deposits
Less liner lacquering
Enhanced engine cleanliness
Extended oil drain intervals
Decreased oil consumption
Longer engine life
Official INNIO Jenbacher approval received
As one of the most important OEM's (Original equipment manufacturers) INNIO Jenbacher positively tested the Q8 Mahler G8 in steel piston, high BMEP type engines. Earlier tests already confirmed that the Mahler G-series technology keeps engines clean. With the expected INNIO Jenbacher approval Q8Oils will have a competitive advantage over competitors as the Q8 Mahler G8 will be the first 'high ash' engine oil that receives this kind of OEM-approval. Previously only 0,5 % sulphated ash lubricants were allowed in this engine type.