Wärtsilä approved Q8 Mahler G5 SAE 40 gas engine oil for the use in several Wärtsilä engine types, with natural gas as main fuel. The approval is the result of an 8.411-hour validation test at the Rofeica Energia power plant located in Spain. 
Wärtsilä holds 6% of the world market of gas produced energy. With the goal of obtaining a Wärtsilä approval for the Q8 Mahler G5 SAE 40 gas engine oil, the W20V34SG gas engine at the power plant of Rofeica Energia in La Pobla de Claramunt (Barcelona) was selected for an extensive field test. 
Q8 Mahler G5 SAE 40 passes the test with flying colors
Although the original test plan aimed for a test period of 4.000 hours, the actual trial period ended after a 13-month period with 8.411 operating hours without a drain. The final engine inspection took place between 22nd and 28th August 2022. During the inspection, three-cylinder stations were completely dismantled and thoroughly inspected. Although the testing period was more than twice as planned, the test results were remarkably good.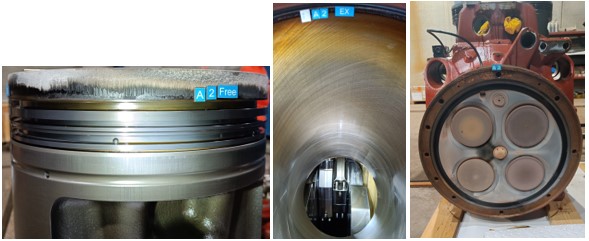 Photos from the field trial report on the Wärtsilä W20V34SG gas engine (Rofeica Energia power plant, La Pobla de Claramunt)
Wärtsilä approval for several engine types
As a result of the positive field test on the W20V34SG gas engine at the power plant of Rofeica Energia, Wärtsilä has published a No Objection Letter to officially approve Q8 Mahler G5 SAE 40 gas engine oil for the following engine types: 
Wärtsilä 175SG

 

Wärtsilä 220SG

 

Wärtsilä 25SG

 

Wärtsilä 28SG

 

Wärtsilä 31SG

 

Wärtsilä 34SG

 

Wärtsilä 50SG

 

Wärtsilä 20DF

 

Wärtsilä 31DF

 

Wärtsilä 32DF

 

Wärtsilä 34DF

 

Wärtsilä 46DF

 

Wärtsilä 50DF

 
About the 'keep clean' technology of Q8 Mahler G5 SAE 40
Q8 Mahler G5 SAE 40 is an excellently balanced gas engine oil, designed to perform in severe circumstances. The innovative 'keep clean' technology offers a range of benefits: 
Outstanding engine cleanliness

 

Low oil consumption

 

Excellent protection for the cylinder head valves and valve seats, significantly reducing the total operational costs

 

Extended oil drain intervals due to high oxidation resistance

 

Outstanding resistance against pre-ignition and knocking ensuring high engine efficiency