Video: Primato relies on Q8 Mahler GR gas engine oil
Primato grows tomatoes on a total surface of 125.000 m2. For the powering and heating of their greenhouses, they use a combined heat and power (CHP) installation, driven by INNIO Jenbacher 624 engines. The newly developed Q8 Mahler GR8 was successfully tested in this challenging application and resulted in longer drain intervals, higher efficiency and cleaner engine parts.
At the end of 2015 Primato moved to a new location where the greenhouses are equipped with a combined heat and power installation. "We want to invest in a sustainable crop production", tells Kevin Pittoors, director of the family-owned company. "The heat of the CHP-installation is used for heating, the electricity for the lighting of the crop and the CO2-emmission is processed into plant nutrition."
The CHP-installation is powered by INNIO Jenbacher 624 engines which are considered among the best in the world, delivering a high performance and reliability. "The reliability is of  utmost importance, because we cannot permit a power failure", explains Pittoors. "That is why we rely on the high-quality engine oils and the experts of Q8Oils. They deliver an excellent service and are really engaged in the monitoring of the oil quality."
"Because of its design, steel pistons and the high BMEP (Brake Mean Effective Pressure), the INNIO Jenbacher 624 engine is the ultimate challenge for gas engine oils", says Alex Maltchev, Senior Product Application Engineer at Q8Oils. "That is why we choose this location to test our Q8 Mahler GR8 gas engine oil."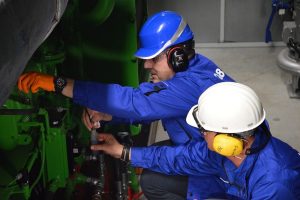 Interested in Q8 Mahler GR gas engine oil?
High oil stability, low costs
The newly developed Q8 Mahler GR8, with its carefully designed additive formulation, has many interesting characteristics:
outstanding performance
high TBN retention
high oxidation stability
At Primato, these characteristics resulted in longer drain intervals while important engine parts, like the pistons and combustion chamber, remained remarkably clean. "That is important to maintain the performance and efficiency of the engine", explains Maltchev.
"We want to help customers in reducing operational costs and extending engine lifetime", says Joris van der List, Technical Service Manager at Q8Oils. "The quality of the Q8 Mahler products remains stable in the long term."
Mark Hensen, Regional Sales & Technical Manager Germany, Austria & Switzerland adds: "The new Q8 Mahler GR gas engine oils show reduced lacquering and cleaner engines, resulting in less maintenance costs, an extended oil filter lifetime and a lower oil consumption. Ultimately, it's all about giving our customers the reliability they need for a smooth operation!"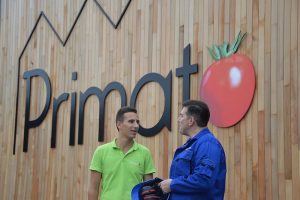 Interested in how the Q8 Mahler GR8 improves gas engine performance in Primato's greenhouses? Watch the video!
From our expert Alex Maltchev
Alex is expert in Gas Engine Oils, Turbine Oils, Compressor Oils and Marine Oils. He has a background in construction equipment and has been working for Q8Oils since 2012.