The automotive industry is no stranger to change, but in recent times, it has witnessed a profound transformation driven by the evolving demands of the market. From extended drain intervals and stricter emission regulations to the need for worldwide adaptability and compliance with component regulations, automakers and suppliers are continually adapting their offerings to meet these new challenges head-on. In this blog post, we'll explore some of the key changes and innovations that are shaping the automotive industry's response to these demands.
New Products for BEV Safety Coolants
As electric vehicles (EVs) gain traction in the market, safety becomes a paramount concern. Among the critical components ensuring safe EV operation are coolants with low conductivity, measuring below 100 µS/cm. In response to this need, Q8Oils is introducing a range of BEV safety coolants designed specifically for EVs. These coolants provide an added layer of safety to protect electric vehicles from potential electrical hazards.
Q8 TMF-EV (Ready Mix):
This product is formulated to meet the low conductivity requirements and ensure the safety of EVs during operation.
Q8 TMF-EV LC (Ready Mix):
Scheduled for release on January 1, 2024, this product is another addition to the line, designed to cater to the evolving needs of the electric vehicle market, and meet the low conductivity requirements.
Antifreeze Solutions for Extended Life
Antifreeze plays a crucial role in maintaining the optimal operating temperature of an engine, and it's even more critical with the extended drain intervals that modern vehicles demand. Q8Oils offers a variety of antifreeze solutions designed to meet these requirements:
Q8 Extended Life (Concentrate):
This product offers extended drain intervals, up to 2 years, making it ideal for vehicles that require less frequent maintenance.
Q8 Extended Life Premixed (Ready Mix):
A hassle-free ready-mix option, ensuring your vehicle's cooling system is well-maintained and ready for the road.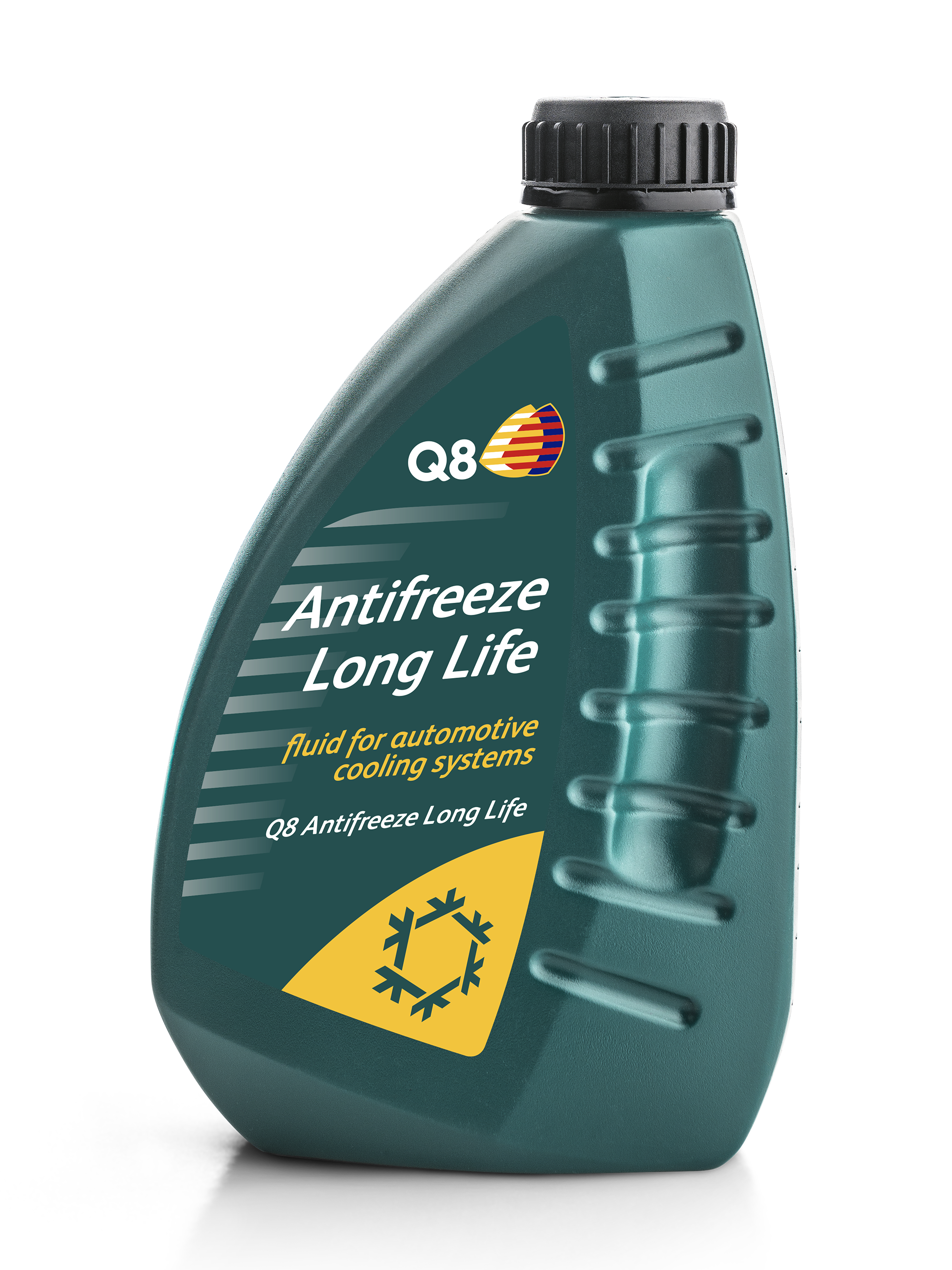 Q8 Antifreeze Long Life (Concentrate):
Engineered to provide long-lasting protection and maintain heat transfer efficiency, this antifreeze is free from potentially harmful additives, contributing to a safer environment.
Q8 Antifreeze Long Life Premixed (Ready Mix):
For convenience, this ready-mix version is also available, ensuring that your vehicle's cooling system remains in peak condition.
Q8 Antifreeze Lobrid & Q8 Antifreeze Lobrid Premixed (Ready mix)
Based on Silicat-OAT technology
Specialized Antifreeze for Specific OEMs – PSI-OAT technology
Different automakers have specific requirements for their vehicles, and Q8Oils is committed to meeting those needs. The new products Q8Oils are launching is based on PSI-OAT technology (Phosphate-Silicate-OAT) They offer specialized antifreeze products for specific OEMs, including:
Q8 Antifreeze EVO – VAG TL 774-L:
Developed to meet the exacting standards of Volkswagen Group (VAG), ensuring optimal performance and protection for their vehicles.
Q8 Antifreeze V – Volvo Cars TR-31854114-002:
Tailored to meet the stringent requirements of Volvo Cars, providing the necessary safeguards for their vehicles.
OAT
SI-OAT
PSI-OAT (New OEM specific)
BEV Safety coolant (New)
FCEV Coolant (New)
Q8 Antifreeze LL (red)
Q8 Antifreeze Extended Life (Blue/green)
Q8 TMF-EV OAT
Q8 Antifreeze Lobrid (magenta)
Q8 Antifreeze EVO (pink) (VAG TL 744-L)
Q8 Antifreeze V (clear, green) (Volvo Cars: TR-31854114-002)
Q8 TMF-EV LC (light blue) (Kia/Hyundai)
FCEV Coolant (New)
2000-8000 µS/cm
100 µS/cm
<5 µS/cm
Adapting to Changing Regulations
In response to environmental concerns, Q8Oils phased out Q8 Antifreeze and Q8 Antifreeze Premixed due to their boron content. These changes align with regulations aimed at reducing potentially harmful additives, contributing to a safer and more sustainable environment.
The automotive industry is continually evolving, and adapting to new market requirements is essential for staying competitive and ensuring the safety and efficiency of vehicles. With innovative products like those offered by Q8Oils, automakers and consumers alike can navigate these changes with confidence, knowing that their vehicles are equipped with the latest advancements in coolant technology.
Adapting to Regulatory Changes in 2023
Change is a constant in the automotive industry, and regulatory adjustments are no exception. As we approach the end of 2023, a new regulation is on the horizon. Specifically, there will be a ban on 2-ethylhexanoate (2-EHA) and its salts in the consumer segment, effective in Q4 2023.
In response to these regulatory shifts, some changes in product availability are anticipated. For Q8 Antifreeze Long Life and Q8 Antifreeze Long Life Premixed, small packs will no longer be offered. However, there's positive news ahead. By the end of this year, a new product, completely free from 2-EHA and salts, will be introduced in small packs. This ensures that consumers and professionals can continue to access the antifreeze solutions they need while aligning with the latest regulatory requirements. Stay tuned for further updates as we navigate these changes together.