In the fast-paced world of farming, construction, and agriculture, the quest for equipment reliability and durability is never-ending. Tractor Continuous Variable Transmission (CVT) systems have emerged as an industry game-changer, offering numerous advantages like compact design, uninterrupted wheel torque, and high starting torque. To harness the full potential of these advantages, you need the right lubrication. Enter Q8 T 2300, the latest Top Tier Universal Tractor Transmission Oils (UTTO) engineered to provide superior protection for off-highway equipment.
Powerful Protection for CVTs
Tractor CVT design is becoming increasingly common due to its compact and robust nature. With no clutch wear, no gear changes, and uninterrupted wheel torque, it's no wonder that this transmission type is gaining traction. To make the most of these advantages, you need a lubricant that delivers exceptional performance. Q8 T 2300 CVT is tailored to do just that.
Q8 T 2300 CVT is not your average transmission oil. It is engineered to provide superior protection for off-highway, construction, and agricultural equipment equipped with CVT systems. This advanced formulation ensures that your CVT operates smoothly, without clutch wear, gear change interruptions, and with uninterrupted engine torques and high starting torques.
Enhanced Performance and Durability
One of the standout features of the Q8 T 2300 CVT are their exceptional wear protection. They are specifically designed to protect key components against wear, overheating, and mechanical strain, which are common challenges faced by agricultural and construction equipment.
This wear protection…
enhances equipment performance,
extends the life of your transmission,
reduces the need for frequent replacements and repairs.
Moreover Q8 T 2300 CVT exhibits impressive durability, even under the most demanding conditions. It features good oxidation resistance, even at high temperatures, ensuring that your CVT remains reliable and efficient during extended operation. This is particularly crucial for heavy-duty machinery that operates in harsh environments.
Unlocking Cost Efficiency
Lowering operational costs is a key consideration for any farm or construction operation. Achieving cost efficiency starts with choosing the right lubrication and involves working closely with a technical team. They can identify and quantify the benefits of proper lubrication, leading to a positive impact on your Total Cost of Ownership (TCO).
By setting clear targets and assessing metrics such as hourly maintenance costs, repair expenses, part replacements, failure frequency, and downtime costs in terms of lost production, you can make informed decisions that streamline your operations and improve your bottom line.
Energy Savings and Viscosity Retention
Another significant benefit of Q8 T 2300 CVT are their energy-saving properties and viscosity retention. The fluid technology used in this product not only reduces friction within the CVT system, leading to energy savings, but it also maintains its viscosity even under extreme conditions. This means that the oil continues to perform optimally, reducing the risk of breakdowns and operational interruptions.
Shear Stability That Sets the Standard
Q8 T 2300 CVT doesn't just meet expectations; it exceeds them. The combination of synthetic base oils and an optimized viscosity modifier ensures extraordinary viscosity retention. Importantly, it doesn't shear down, even under the most demanding conditions. In fact, it's up to 39% more shear stable than a WB 101 product, providing consistent lubrication performance throughout your equipment's operational life.
Applications Tailored for Excellence
Q8 T 2300 CVT has been developed with a specific focus on Fendt Vario CVT specifications, where it shines as a class-leading option with outstanding viscosity retention. But its versatility doesn't stop there; it has been rigorously tested for compatibility with a wide range of OEMs, including John Deere, Same Deutz Fahr, CLAAS, and CNH, showcasing its exceptional performance across the board.
Q8 T 2300 CVT has been tested and approved for a multitude of specifications, including: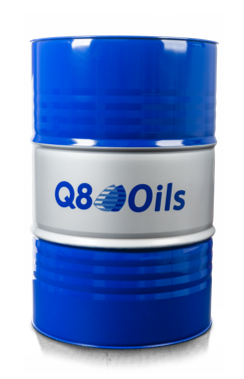 AGCO CVT ML 200
API GL-4
Case New Holland MAT 3525/ MAT 3540
Caterpillar SATO
Claas CVT
Fendt Vario
John Deere JDM J20C
Massey Ferguson CMS M 1145
Valtra G2-08 (XT-60)/ G2-B10 (XT-60+)
ZF TE-ML 06B/ 06D/ 06E/ 06F/ 06H/ 06L/ 06M/ 06R/ 06S
Available in two viscosties
Q8 T 2300 CVT is a fully synthetic product and available in two viscosities 10W-30 (75W-85) and 15W-40 (75W-90).
| Q8 T 2300 CVT 10W-30 (75W-85) | Q8 T 2300 CVT 15W-40 (75W-90) |
| --- | --- |
| Energy efficiency | Also backwards compatible with older equipment requesting this viscosity |
| Best in class cold climate proporties | |
| For all modern Equipemnt | |
Conclusion
In the world of farming and construction, equipment reliability, durability, and cost efficiency are non-negotiable. Q8 T 2300 CVT emerge as a versatile, high-performance UTTO that offers superior protection, exceptional wear resistance, and unmatched shear stability. By choosing Q8 T 2300 CVT you're making an investment in the longevity and efficiency of your equipment, while also optimizing your operational costs. Elevate your tractor CVT experience with Q8 T 2300 CVT and enjoy the benefits of top-tier UTTO technology in action.