Q8Oils is happy to announce the new Q8 CHF 22S, a new synthetic high VI (>300) hydraulic fluid for automotive hydraulic systems using high quality synthetic base oils in combination with specially selected additives.
Q8 CHF 22S is developed to give full protection and performance under extreme temperature conditions from -40 °C up to over 130 °C. It has been designed to meet the highest technical requirements for following applications:
Citroën Hydractive 3, Hydractive 3 Plus and Hydractive 3 Plus + AMVAR (active damping) suspension systems
Hydraulic power steering systems and self levelling suspension systems
Hydraulically operated roof for convertible tops
For ABS/ASR and Daimler ABC systems
Hydro-pneumatic suspension
Stability and traction control
Central lock systems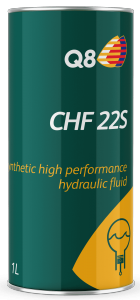 Q8 CHF 22S is a hydraulic fluid with excellent low temperature viscosity performance for preserved suspension comfort and performance during cold driving conditions meeting the PSA S71 2710 homologation specification. Q8 CHF 22S is water-repellant, no build-up of water in the fluid ensuring optimal system condition and performance also in humid environments.
Following specifications and OEM requirements are met:
PSA S71 2710
MAN M3289
VW TL 52146
MB 345.0
Volvo STD 1273,36
DIN 51524-T3
ISO 7308