Q8Oils launches its new state-of-the-art BMW engine oil Q8 Formula Special FE 0W-30, which is a new Euro 6 synthetic Top Tier Low SAPS engine oil for BMW Long Life 12FE applications using BMW LL-12FE approved technology.
BMW has introduced the Long Life 12FE engine oil specification for their latest BMW Euro 6 diesel engines. Fuel Economy Improvement and exhaust gas after-treatment system protection for BMW Euro 6 diesel engines were the main targets, next to further improvement of Biodiesel Compatibility.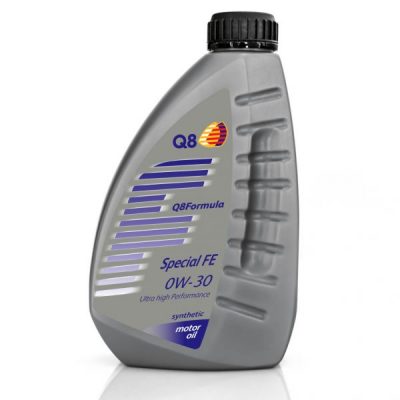 Key benefits
Reduces overall fuel consumption
Low SAPS formulation protecting the Exhaust Catalyst and Diesel Particulate Filter
Ultra-low in Phosporous to protect SCR Euro 6 Exhaust Gas After treatment systems
Excellent engine cleanliness and wear protection increasing engine durability
Excellent bio-diesel compatibility
ACEA C2-12 specification level
Q8 Formula Special FE 0W-30 meets the ACEA C2-12 performance level. BMW has adopted urea based SCR (Selective Catalyst Reduction) technology as many other OEMs for their Euro 6 diesel engines to reduce NOx emissions, whilst it also helps to improve fuel economy. This new engine oil can also be used for BMW gasoline engines from 2002 onwards.