Three main market drivers continue to force a rapid change in the European heavy duty diesel (HDD) market. The continuous focus on efficiency, durability and emissions impacts future engine design. Engine oil technology as part of the engine design, is a key ingredient on the fuel saving menu.
The most important trends and changes in the automotive industry are three market drivers:
Durability
Efficiency
Emissions
The challenge for Original Equipment Manufacturers (OEM) is to develop smaller engines with increased power requirements and a longer life span.
Durability
The environmental conditions in which engine oils should perform has become increasingly complex and harsh because of:
The introduction of new engine designs and after treatment systems. For example: turbochargers operate at temperatures of up to 1000°C and spin at speeds of up to 250,000rpm.
The introduction of new fuels and regulations. For example: in a new Euro VI engine oil must flow through the engine for a total distance of more than 9.5 metres, in oil galleries as low as 0.4mm.
Engine durability is becoming increasingly important.
Enhancing durability helps to:
Avoid unscheduled downtime.
Lower maintenance and repair costs.
Comply with delivery agreements, maintaining quality of service and customer satisfaction
Lubricant characteristics such as sooth control, low temperature compatibility and oxidation resistance play an important role in improving engine durability.
Efficiency & emissions
The emission of CO2 during the combustion process of a heavy duty diesel engine is inevitable.
Since 1965 the fuel consumption of European commercial vehicles has been greatly reduced, leading to a decrease of 65 % in CO2 emissions. This trend is the result of two main driving forces:
The reduction of operating costs: commercial vehicle owners are continuously looking for ways to reduce operational costs. With fuel accounting for up to 35% of a fleet operator's overheads, any potential improvement in fuel economy is significant.
Environmental concerns: The evolution of emissions legislation forces Original Equipment Manufacturers of heavy-duty vehicles to reduce engine emission levels by optimizing the combustion process and implementation of effective exhaustgas aftertreatment systems. In particular, exhaustgas aftertreatment systems are very sensitive on engine oil quality. ACEA's members Vision 20-20 strategy aims to decrease fuel consumption by 20% by 2020 compared to 2005 levels.
How you can reduce emission levels yourself
The responsibility of reducing the emission levels of your commercial vehicles lies not only with the engine manufacturers. You can also contribute to improve fuel economy of your fleer and decrease your operational costs by:
Working with streamlined containers
Driver training programmes
Using fuel economy tyres
Upgrading your vehicle stock
Using the optimal engine oils
How engine oils improve fuel economy
Improved fuel economy is directly connected with engine oils with a lower viscosity and HTHS (in High Temperature High Shear). It has led to a shift in viscosity  grades from the traditional 15W-40 and higher to 10W-40, 10W-30 and 5W-30.
It is clear that lubricant technology is a key enabler to increase fuel economy across fleets, reducing operating costs and supporting environmental considerations.
A carefully formulated engine oil is crucial to maintain the balance between fuel economy, exhaust gas emissions and engine durability.
Q8Oils recently introduced the Q8 Formula Truck 8900 FE 5W-30 and Q8 Formula Truck 9000 FE 5W-30 full filling all the latest OEM requirements:
ACEA E6 /E7 /E9,  API FA-4/CK-4 /CJ-4 /SN,  MB 228.31 / MB 228.51/228.71,
MAN M 3677, MTU Type 3.1; Volvo VDS-4.5/ VDS-4, Renault RLD-4, Deutz DQC IV-10 LA, Mack EO-S 4.5;  Cummins CES 20086, CES 20087, Caterpillar ECF-3,  Detroit Diesel DFS 93K222, DAF Extended Drain, Scania LDF-4,
Q8 Formula Truck 9000 5W-30 has shown impressive results in the OM501 LA FE engine tests delivering fuel economy savings of 1.41% over an SAE 15W-40 engine oil and 1.21% over and SAE 10W-40 engine oil. This means 0.14% potential fuel savings even over and above a 5W-30 API CK-4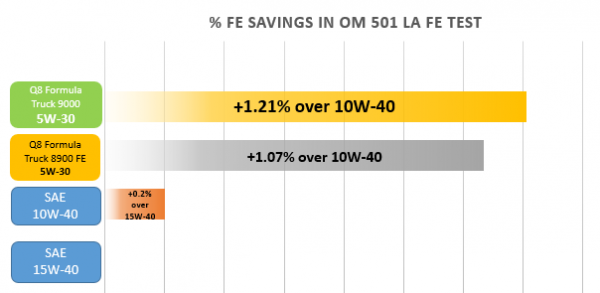 The high performance additive technology used in Q8 Formula Truck 9000 FE 5W-30 surpassed the test limit set by industry by healthy margin thus demonstrating the highest standards of protection against scuffing wear.
Below the full overview of Q8 HD-products for all trucks form Euro II and up to the latest Euro VI engines