Q8Oils has recently signed a commercial and marketing agreement with the company XEV in Italy, that produces 3D printed electric vehicles. This agreement shows Q8Oils' continuous efforts to remain one of the lubricants most innovative companies.
Marc, can you tell us in a few words about your career with Q8?
I started my Q8 career in 1980 when I was responsible for refuelling aircraft at Zaventem, working under a temporary contract. In 1982, I went onto a fixed contract and became a fuel delivery driver. In 1996 I moved to Blending Plant Antwerp where, since then, I have worked as an additives operator.
What can you tell us about your passion for motorbikes?
Motorbikes have always been one of my main hobbies. I have been a rider in enduro (off-road endurance races) and motocross. I have also been the chairman of a touring and enduro motorbike club for more than 30 years. For the last few years, I have concentrated mainly on training on a high-speed track.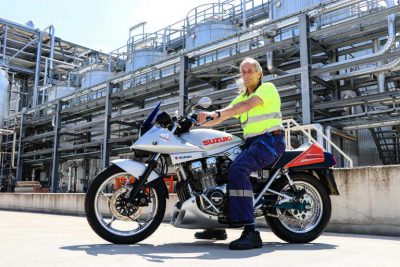 Tell us about your motorbikes…
My loves are my Yamaha Super Ténéré 1200cc which I use for my trips into the mountains, notching up 15,000 km/year, and my Suzuki GSX-R 600 for the track. My jewel is the Katana 1100 that I purchased new in 1982 and I have already travelled more than 198,000 km on it.
How important is oil, whether for your own motorbikes or for the sport in general?
Top quality engine oil is essential for my motorbikes. I pay very close attention to the oil I choose, as a high-quality oil helps keep the engine in peak condition despite high output and some very tough use on the race track.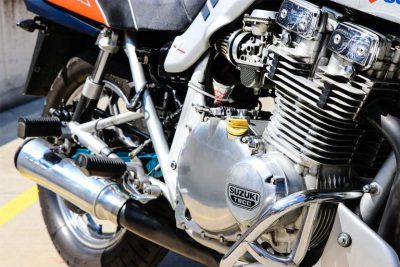 What oil do you use and why?
I use the full synthetic Q8 Moto SBK Racing 10W-50 in all my machines and I always recommend it to my family and friends. As I am in the business, I know all its constituents and the manufacturing quality. The motorbike I use on the race track goes up to over 15,000 rpm, which is why I choose the most reliable oil possible.
What have you noticed when you stripped down the engine?
I could see the exceptional performance of our Q8 oil when I stripped down the engine crankcase on my old motorbike to redo the sump drain plug thread. I was really surprised to find that the inside of the engine was in virtually new condition – it was perfectly clean, without the slightest trace of carbon and with very little wear, even after more than 198,000 kms driving. Also, the air-cooled engine, which dates from 1982, consumes no more oil today than when it was new. You can understand why I like this high-quality oil so much.
What advice would you give other engine fanatics to maintain their equipment properly?
I would recommend all motorcyclists to use our excellent SBK 10W50 oil. It will guarantee excellent wear resistance quality, even and especially during very tough use.
Remember that the same oil for the engine is used for braking too, which means that it will become polluted with wear particles. The oil used in a motorbike also passes through the gearbox and over time its molecules will split after being crushed between the gear teeth in the gearbox. It is therefore important to change the engine oil regularly.