Based in Hertfordshire, UK, Pope & Meads is a long-established precision engineering company providing solutions for scientific, defence and aerospace sectors. Services include ultra-high precision machining; general machining; electro-mechanical assembly; cleanroom assembly; parts and material sourcing; specialist finishes/treatments; testing and verification; inspection and reporting; and product cleaning.
Building on its strengths and increasing manufacturing capacity have resulted in a major investment towards the later part of 2016 with the introduction of seven new machine tools. As a client of Cromwell Group, providers of consumables, service and support, Pope & Meads' management was invited to the bi-annual Cromwell Event, which over two days brings together industry leaders to promote their products and technical expertise.
Since the introduction of new high-speed machinery at the Hertford facility, it became apparent to the machine shop team that the current metalworking fluid was not performing to satisfactory levels. With this in mind machine shop manager, Neil Morris, attended the event determined to ask questions and look for solutions.
On the recommendation of Pope & Meads' account manager, Alan Mitchell, Neil Morris was introduced to Q8Oils which, as a longstanding partner to Cromwell Group was again exhibiting.  From this initial contact, it was decided that the Q8Oils technical support team should visit Pope & Meads to assess the situation and look to provide answers.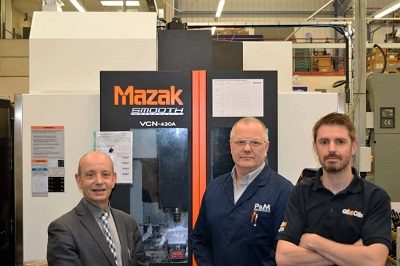 "I was impressed that Q8Oils had dedicated staff to support its industrial customers. During the first visit from the Q8 field service technician his approach and explanation as to the reasons for the fluid stability issues helped me understand the problem clearly. With some simple chemistry, he demonstrated why we were experiencing concentrate separation, percentage drop-off and excessive foaming. It confirmed my suspicions that the product was unable to cope with the increased flow rates and throughput of the new machinery.  The next step was to trial a product on the advice of Q8Oils on the basis that we would cover the costs only if the outcome was successful." – Neil Morris
Once all trial objectives were finalised and agreed, Q8 provided a sample of Q8 Brunel XF 343 from its new range of Boron-free, high performance soluble metalworking fluids. As soon as the fluid arrived on site Q8 personnel returned to install it in two new machines; a turning centre and a vertical machining centre which would replicate all the new equipment that had recently arrived along with a variety of materials to be processed over the following period.
Trials ran for several months and were fully supported with visits from the Q8 technician. Neil Morris adds: "Another benefit that I didn't foresee was the continued service from Q8Oils. They visit regularly and test the fluids to ensure they are within specified limits, displaying the information for all to see, which helps us achieve our Health & Safety obligations for staff who are in contact with soluble metalworking fluids."
Q8 Brunel XF 343 has enabled Pope & Meads to increase tool life across a range of materials, and address previous metalworking fluid stability issues while continuing to use mains make-up water. Its high levels of cleanliness is keeping machines residue free and also allowing excellent vision for machinists.