Emulsion Management
The aluminum wire drawing emulsion as like copper should be filtered effectively, this promotes clean running by removal of abrasive and reactive fines from the system. In aluminum emulsions it is best to use two systems, a centrifuge and also a paper filtration. A third system of a vacuum filtration could also be considered to remove the lightweight particles.
Please find the pictures below which show the higher performance filtration systems for aluminum wire drawing emulsions. These schematics are supplied courtesy of Filtertech, New York State, USA
Emulsion Control
The aluminum wire drawing emulsion should be controlled and monitored frequently for the following test parameters.
Appearance
Odour
Concentration
pH
Conductivity
Bacterial Analysis
Co-Efficient of Friction
Cleanliness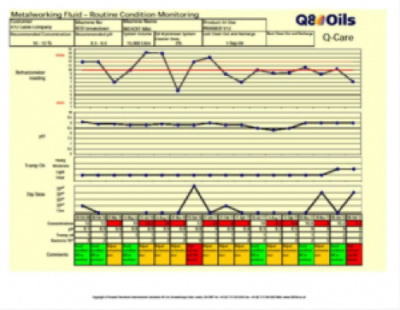 Trend analysis
The testing and procedures are no different to those used for copper wire drawing emulsions, the evaluation of cleanliness of the emulsion being important to determine fines content and the effectiveness of the filtration system.
The results from the analysis should be charted for trend analysis, please see the figure above.
Cost Downs
The overall costs for running an aluminum drawing system can be lower when using a wire drawing emulsion, although the soluble oil is more expensive there is less required for the system
20,000 Litre System
Neat Oil
Cost
Emulsion
Cost
20KL @ Index 2.00
40,000.00
12%, 20KL, 2.4KL @ Index 3.00
7,200.00
Top Up, 10%, 2KL
4,000.00
Max Top Up 2.4KL
7,200.00
Disposal, index 120 per ton
2,400.00
Disposal, index 40/MT
800.00
TOTAL
46,400.00
TOTAL
15,200.00
The above chart shows the significant cost differences of lubricant systems comparing an aluminum drawing oil to a drawing emulsion. In terms of index cost, top up and disposal the drawing oil is over 3 times more expensive.
It is also true to comment that in terms of life, the oil system could if well maintained, have a longer life hence costs could be spread over time there would also be increased drag out as the oil ages and extra top up costs. There also remains a higher cost of disposal at the end of its life due to additives in the oil and the fines contamination.
Disposal techniques and costs for emulsion are decreasing also with advanced techniques of ultrafiltration and vacuum distillation which can further reduce costs by up to 85%.
Summary
This paper discussed the application for aluminum wire drawing and options for users in that they can use either an emulsion or neat oil for aluminum rod drawing and in some case the same product for all applications of copper and aluminum.
The total cost of the process using an emulsion is lower than that of neat oil and there are significant performance benefits to be gained.
Many techniques and experience are lost out of the industry through factory personnel changes, the requirement for the supplier to support the customer and highlight cost saving options is ever more important. The wire drawing lubricant is perhaps the smallest cost item in the process but remains one of the most influential.